Hand-Crafted Wooden Canoes for Sale
Ravenwood will be offering 2 models of boat, consistent with how we see peoples leisure time has evolved. For those who wish to trip and experience more of the wilderness, as well as those that are looking for a leisurely paddle, perhaps with a fishing rod or picnic basket, we will offer a boat ideally suited to each purpose. Naturally either could be used solo or for each purpose, however just as one pair of shoes could never cover all occasions adequately, these boats excel in different areas.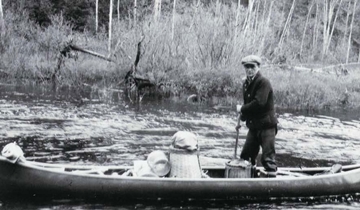 Guide Canoe
We are currently offering a 17.5 foot canoe in the tradition of a guide canoe, for much the same purpose as a Timber Cruiser needed when traveling the lakes, rivers and streams as they evaluated the woods on behalf of their lumber companies. A modest amount of rocker ensures mobility in fast water, while sharper entries with a nice run allows for the volume of gear needed for a weekend, or even weeks. White cedar ribs and planking of either white or western red cedar, provide the basis for a boat that can be built to the desires of the purchaser. Hardwood gunwales in ash, cherry or walnut and seats/decks/thwarts in the same or other woods such as plain or figured maple will make both a serviceable and attractive boat. Many options are available, based on your preferences. Filled canvas with several coats of premium marine enamel complete the boat, and provide yet more options.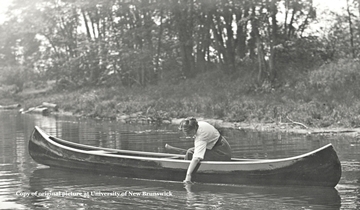 16' pleasure canoe, a 100 year old design
We will soon be offering a 16' pleasure canoe based on a 100 year old design, with an elegant upswept sheerline, generous tumble home and other features unique to the early days of canoe design and manufacturing, again with a variety of woods and finishes limited only by your imagination and budget.
Custom built Accessories for Sale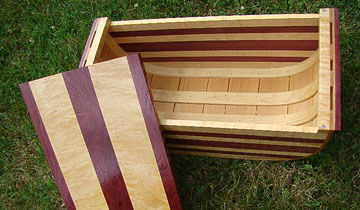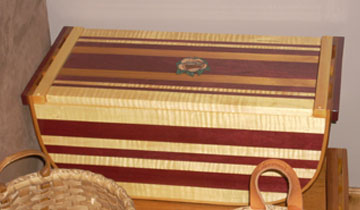 Wanigans
Custom built wanigans are our specialty, in a variety of woods and finishes. Brows some of our finished products, and feel free to tell us what woods and combinations we can build for you. Built with the same methods are care as a canoe, they are exactly like a section from a full sized boat. Take them out on the water, or keep them at home as furnishings for a variety of uses. Prices start at $150.00 for cedar, and go up accordingly with woods used.
We would be pleased to discuss other projects, from strip built to stitch and glue designs, assembly of kit boats or finishing a project that's lost its momentum; contact us today to get started.